branding quickview
Branding is one of my passions. I love the challenge of showing a product in its best light. I endeavour to work with companies I consider ethical. Real people who are passionate about their product and what it offers to consumers. For that reason I prefer to keep my operation lean. This allows me to offer a premium service at less than clients would pay to larger firms offering comparable work.

This is just a small sampling of some of my work. My career spans close to three decades and my work has garnered numerous awards. But the biggest reward of all is seeing my clients succeed.
For more information on my branding work go to the portfolio pages or, for even more, you can visit my flash site thumbnailbranding.com. To find out what I can offer your organization, please email me at judy@thumbnailbranding.com or call me on my cell at 604.612.1537.
Strathcona 1890 Urban Seed Collections
Strathcona 1890 Seed Collections and the Urban Seed Project were created to promote and develop local, sustainable food resources in the heart of Vancouver.
Sales of the unique collections of seeds will also help create new jobs in the Downtown Eastside as well as growing programs at Vancouver's inner city schools, daycares and community centres. The packages use illustrations created by combining historical botanical images that are in the public domain. The collections are targeted at the gift market and use humorous clever lines elicit a smile and to create an emotional connection with a potential buyer.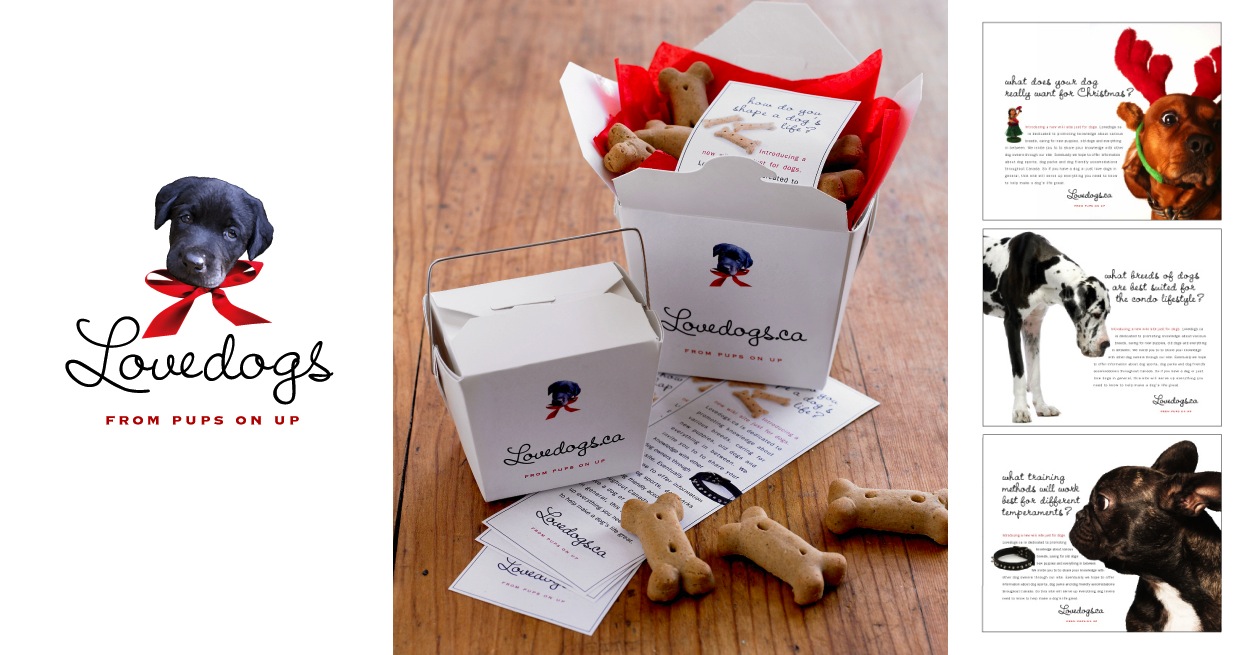 Love Dogs
Love Dogs is a project currently in development. A wiki website is in the works to offer dog owners information on everything from dog sports to dog health.
Tea Desire
Tea can calm you with infusions of fruit, herbs and flowers, or invigorate you with black blends from Ceylon. Even the act of making a cup of tea can be a sensual experience. These were some of the feelings I was asked to evoke with the branding of Tea Desire. The campaign included logo, packaging, ads, in-store merchandising, uniforms and overseeing the design of the flagship store to maintain the brand integrity.
Lansdowne Shopping Centre
The campaign for Lansdowne Shopping Centre was designed to literally give the mall a voice. By enabling the mall to "speak" to consumers we were able to humanize it and give it a friendly approachable personality. As well, the centre is located in Richmond, B.C. which has a very high population of non english speaking and ESL residents so by using images instead of headlines we also reduced language barriers allowing the centre to communicate effectively with more consumers.
Central City Shopping Centre
In 2010 I developed a rebranding campaign for Central City Shopping Centre. The campaign was designed to reflect the stunning and unique architecture of the shopping centre and diverse tenant mix. Because the centre also incorporates a university campus and offices the branding was clean intelligently written and focused on everyday needs to target students and office workers. The branding used primarily newspaper and outdoor media to promote key categories in the centre and is complimented by promotion-specific advertisements in newspaper and in-mall applications. By blending custom photography with royalty-free images I was able to extend the budget without compromising the look.
The Urban Grange
The Urban Grange will be a updated version of the original grange which was established in the 1800's. The concept is to enable urban farmers and gardeners to share information and ideas on best practices for growing food in urban environments. There will be online components as well as local gatherings to exchange ideas and innovations.
Shopomatic
Shopomatic is a mobile app being developed to make shopping faster, easier and more fun. It is targeted at shopping centres and would allow individual stores to connect with registered customers through their phones when they come into the mall. How cool to have someone drop you a line to say, noticed you are in the neighbourhood, drop by for a special deal on ....
The Strathcona 1890 Truck Farm
We didn't have a budget for traditional media, and frankly, not much of a media budget at all - just $2,000 for the entire year. So I came up with the idea to rebrand my rusty old pick-up truck and use it as a mobile demonstration of small space gardening to promote Strathcona 1890 Seed Collections. So far it has garnered about $40k in free publicity and exhibition/vendor space at local events.